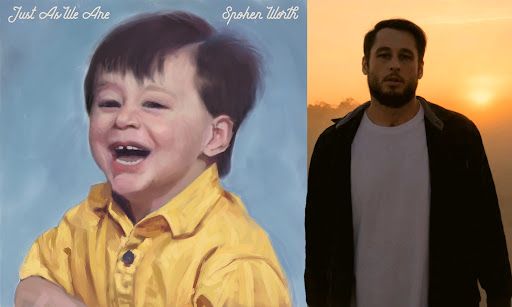 Miami, Florida - Spoken word poet and Christian artist Spoken Worth has had a relatively quiet 2022 to this point. His critically acclaimed 'Crucible Chronicles' ('Project of the Year', FiveTwenty Collective) showcased his undeniable talent when it comes to both poetry and music. The album featured several premiere artists within the Christian hip hop community. Now, after a season of many personal transitions, Spoken Worth is ready to follow up 'Crucible Chronicles' with the release of Just As We Are. 
Collaborating once again with Bway (producer and engineer), Spoken Worth pours personal experience out with purpose on a single that undoubtedly connects with countless individuals across the world. 
"Just As We Are is a song for all the inner childs around the world who live in shame and shadow," explains Spoken Worth. "It's for those who aren't sure if God's love is for them. I pray it brings someone from shame and confusion to certainty. From darkness to light." 
Releasing on July 26, 2022, the record will be available across digital music platforms including Spotify. A visual for Just As We Are will follow soon. 
Listeners can rest assured that, no matter what their current situation may be, there is hope and love waiting for them. As Spoken Worth states, "God loves and accepts us just as we are. We are not a product purposed to be consumed. We are not performers purposed to entertain. We are people purposed to be seen and loved. Why? Because God sees us fully and loves us fully. Just As We Are." 
Follow Spoken Worth: Twitter | Instagram | Facebook | YouTube | TikTok | Spotify 
Record Details 
Title: Just As We Are 
Artist: Spoken Worth 
Release Date: July 26, 2022 
Production: Bway (Longstory.) 
Engineering: Bway (Longstory.) 
### 
About Spoken Worth 
Beginning his career in Terre Haute, IN Spoken Worth fell in love with sharing poetry in a passionate way that he found out was called "spoken word". Over 5 years Spoken Worth has released three full length albums, a collaborative christian hip-hop E.P. with OnBeatMusic, headlined his own tour, and performed for over thousands of people. 
Ultimately, Spoken Worth has been blessed to share the gospel through poetry in over 20 states, and 50 different cities. Spoken Worth has performed and opened for award winning comedians such as 'LaVell Crawford' as well for the well known spoken word poetry group 'Hotel Books'. Spoken Worth has also performed at some of the largest christian youth conferences in the country such as Winterfest in Gatlinburg, TN and Arlington, TX. 
Spoken Worth believes in speaking life, love, and Jesus into the lives of others. He believes in creating connection, and relationship through spoken word and music. He believes that we as people are all human, flawed, broken and wounded. His spoken word poetry aims to tell the story of his wounds to help others find healing in theirs as well.