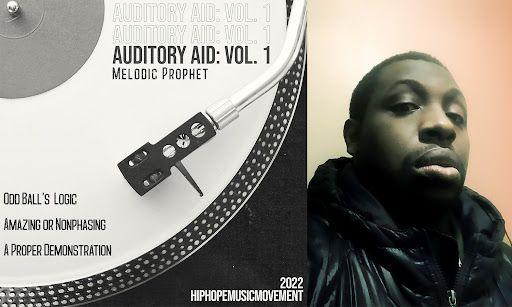 South Bend, IN - Christian Hip Hop artist Melodic Prophet is set to drop his sophomore EP titled Auditory Aid: Vol. 1. Combining traditional Boom Bap with heavy elements of Alternative Hip Hop, Melodic Prophet looks to build on his previous work and introduce himself on a larger scale to the CHH community. 
Following the singles "Love is Sacrificial" and "Amazing or Nonphasing (Rough Draft)", Melodic Prophet has set the release of Auditory Aid: Vol. 1 for July 13, 2022. 
"From a musical standpoint it is a representation of my personality," explained Melodic Prophet. "The beats aren't commercial or normal. The flow patterns and rhyme structures can be unorthodox. It represents authenticity. What you hear is a representation of who I am. It's my love for the genre, communicated through the underground channels." 
"From a theological standpoint, it alludes to some of the many core values I tend to draw on in my personal walk with Christ. Encouragement, dedication, holiness, and humility, are the same values that I often communicate in my music as well as in my daily life. I believe the concept and overall aesthetic is one that will easily draw certain listeners because they can relate to it. This phrase best sums it up: Empathy used as medicine." 
The EP was written and self-produced by Melodic Prophet, displaying the range of his musical abilities. He also handled the engineering process, bringing the sonic vision full-circle. Auditory Aid: Vol. 1 is an excellent showcase of hip hop in pure form. 
The future is bright for the Indiana emcee, Auditory Aid: Vol. 1 is set to establish the foundation of God's plans for Melodic Prophet's ministry.  
Follow and Support Melodic Prophet: Facebook | Twitter 
Project Details 
Title: Auditory Aid Vol. 1 
Artist: Melodic Prophet 
Release Date: July 13, 2022 
Production: Arquelle Moore 
Engineering: Arquelle Moore 
Listen: https://ffm.to/x2e4yql 
Track List 
Odd Ball's Logic 
Amazing or Nonphasing 
A Proper Demonstration 
### 
About Melodic Prophet 
Arquelle Moore, aka Melodic Prophet, is a Christian Hip Hop (CHH) artist from South Bend, Indiana. His sound contains traditional Boom Bap along with heavy elements of Alternative Hip Hop. Influenced by artists such as Christon and Taelor Gray, Propaganda, and Beautiful Eulogy, Melodic Prophet began his musical journey in 2018. 
After laying the groundwork for the past two years, Melodic Prophet is ready to introduce himself and his music to the CHH community on a larger scale. 2022 will feature a new EP, 'Auditory Aid Vol. 1', and more!