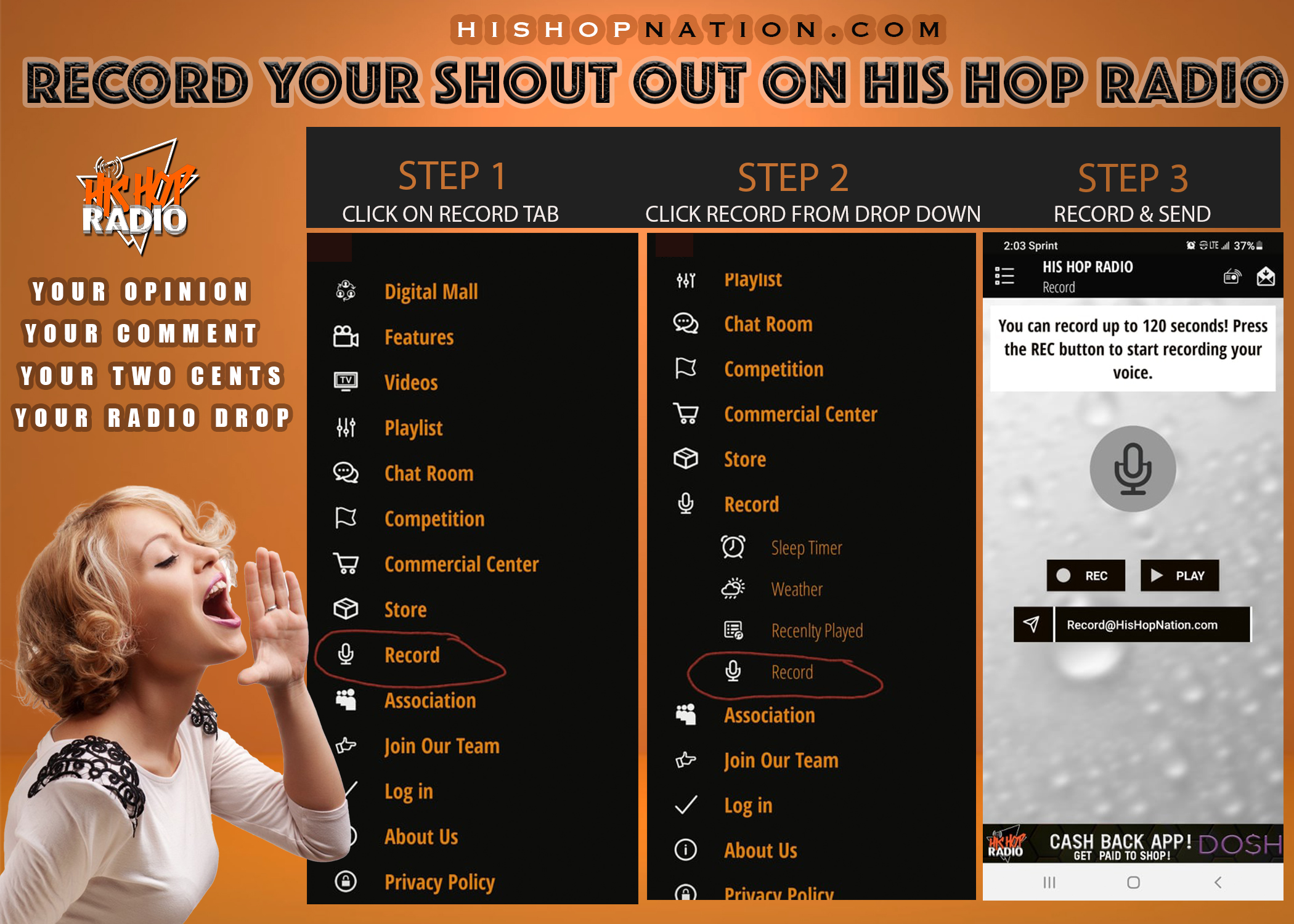 ARE YOU READY TO MAKE YOUR MARK IN THE WORLD OF HIP-HOP AND PODCASTING? WE'RE GIVING YOU THE MICROPHONE – IT'S YOUR TIME TO SHINE! RECORD YOUR VOICE AND SHARE YOUR THOUGHTS ON OUR CAPTIVATING PODCAST SEGMENTS. 🗣️ WHETHER IT'S A FIERY COMMENT, A MIC DROP MOMENT, OR YOUR UNIQUE PERSPECTIVE, WE WANT TO HEAR IT ALL. 
HERE'S HOW YOU CAN JOIN THE CONVERSATION: 
🔊 LISTEN: TUNE IN TO OUR THOUGHT-PROVOKING PODCAST EPISODES ON THE HIS HOP RADIO APP. ENGAGE WITH THE CONTENT AND FIND THE SEGMENT THAT RESONATES WITH YOU THE MOST. 
🎙️ RECORD: HIT THAT RECORD BUTTON AND LET YOUR VOICE BE HEARD! SHARE YOUR REACTION, AND INSIGHTS, OR SIMPLY DROP A COMMENT ON THE SEGMENT THAT SPARKED YOUR INTEREST. THIS IS YOUR PLATFORM TO EXPRESS YOURSELF. 
📢 SHARE: ONCE YOU'VE NAILED YOUR RECORDING, DON'T KEEP IT TO YOURSELF! SHARE YOUR MASTERPIECE WITH THE WORLD. LET YOUR FRIENDS, FOLLOWERS, AND FELLOW HIP-HOP ENTHUSIASTS JOIN IN ON THE CONVERSATION. 
🤝 CONNECT: CONNECT WITH LIKE-MINDED INDIVIDUALS AND BE PART OF A THRIVING COMMUNITY THAT LIVES AND BREATHES HIP-HOP CULTURE. ENGAGE IN MEANINGFUL DISCUSSIONS AND CONNECT WITH FELLOW FANS. 
YOUR VOICE MATTERS, AND HIS HOP RADIO APP IS THE STAGE WHERE YOU CAN SHOWCASE YOUR PASSION AND OPINIONS. SO, WHAT ARE YOU WAITING FOR? GRAB THAT MIC, DROP YOUR INSIGHTS, AND LET THE WORLD EXPERIENCE YOUR UNIQUE PERSPECTIVE. DOWNLOAD THE HIS HOP RADIO APP NOW AND LET'S MAKE WAVES TOGETHER! 🌊🎶