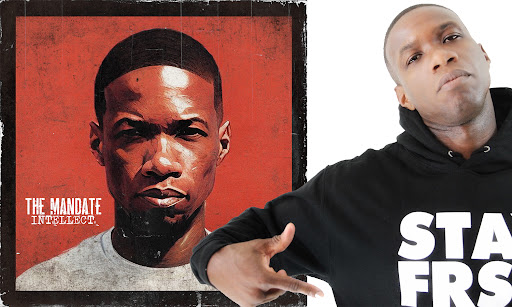 Sandusky, OH - "This is my commandment, that you love one another as I have loved you. Greater love has no one than this, that someone lay down his life for his friends. You are my friends if you do what I command you. No longer do I call you servants, for the servant does not know what his master is doing; but I have called you friends, for all that I have heard from my Father I have made known to you." [John 15:12-15]
Christian Rap artist iNTELLECT introduces his latest project The Mandate.
When the Lord speaks into our lives, He does not casually ask us to follow the direction He is giving. Instead, He speaks with authority because the plans that He has for us are perfect. All things that He commands of us are for our own good. For iNTELLECT, it was a mandate to use the medium of hip-hop music to reach listeners who need to hear the gospel of Jesus.
With this new nine-song album, iNTELLECT continues to push forward toward the goal that he has been given.
The Mandate is a master class in boom-bap music. Featured among the tracklisting are the singles "Sky High", "Winning", and the title track, all feature DJ Sean P. Additional features include Polished Arrow artists Procyse and Dex the Nerd Who Loves Jesus along with DJ Navin Johnson and DaLomonze. The record is the highlight of the hard work put in over the past year by iNTELLECT and the Polished Arrow team. It is a true testament to what modern indie labels can accomplish with vision and the discipline to remain focused on their priorities.
The Mandate releases on digital streaming platforms on May 5, 2023.
Support iNTELLECT: Website | Instagram | Facebook
Project Details
Title: The Mandate
Artist: iNTELLECT
Release Date: May 5, 2023
Label: Polished Arrow
Production: F-Plus, DJ Sean P, Brokenfinga, iNTELLECT
Engineer: iNTELLECT
Features: DJ Sean P, Procyse, Dex the Nerd Who Loves Jesus, DJ Navin Johnson, DaLomonze
Track Listing
The Mandate
Winning
Last Days
Sky High
Make a Way
GO!
Contact
Wake Up
Legacy
###
About iNTELLECT
With a distinct flow, iNTELLECT has used his gift to spread the message of salvation through faith in Jesus Christ to areas throughout the Midwest. Drawing his inspiration from the Gospel and life experience, iNTELLECT combines biblically sound doctrine with hip-hop beats.