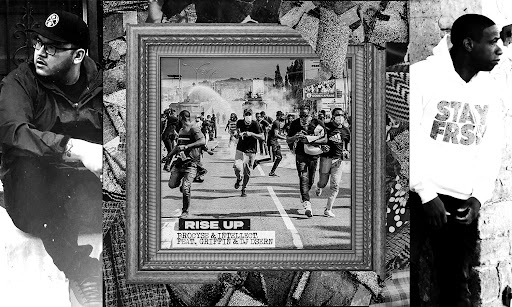 Sandusky, OH & Denver, CO - "Now this I know: The Lord gives victory to his anointed. He answers him from his heavenly sanctuary with the victorious power of his right hand. Some trust in chariots and some in horses, but we trust in the name of the Lord our God. They are brought to their knees and fall, but we rise up and stand firm. Lord, give victory to the king! Answer us when we call!" [Psalms 20:6-9]
For all things, there is a time and a season. The time to Rise Up and proclaim the Word of the Living God is now. Not only are believers of The Way called to spread the gospel message, but we are to be defenders of the faith.
Emcees iNTELLECT (OH) and Procyse (CO) once again team up on the collaborative hip hop anthem Rise Up. The two artists have become one of Christian rap's hardest-working duos over the past year. Beyond simply creating music together, iNTELLECT and Procyse joined forces to launch the independent label Polished Arrow Music. The indie imprint rosters hip hop artists JusJames and Dex the Nerd Who Loves Jesus on its current roster.
With Rise Up, the tandem builds upon the success of previous releases such as "For the Culture", "The Big Picture", "I'm So…", and others.
The energetic Rise Up was produced by acclaimed beatmaker Newselph. Both emcees raise the standard when it comes to their Christian faith, something that is never questioned or hidden within their music. Both artists are unashamed when it comes to standing up for what they believe in.
This latest record features a guest verse from Griffin who finishes the track with masterful wordplay. That, combined with additional touches courtesy of DJ Dsern, solidifies the message within Rise Up.
Support
iNTELLECT: Instagram | Facebook | Website
Procyse: Instagram       Polished Arrow Music: Instagram
Song Details
Title: Rise Up
Artists: iNTELLECT, Procyse
Release Date: April 28, 2023
Label: Polished Arrow Music
Production: Newselph
Engineering: iNTELLECT
Features: Griffin, DJ Dsern
###
About Procyse
Denver artist Procyse has always been inspired by the need to convey truth via music. Procyse boldly combines his heart for the gospel with his music in an effort to spread hope among the hopeless through a gritty, boom-bap sound.
About iNTELLECT
With a distinct flow, iNTELLECT has used his gift to spread the message of salvation through faith in Jesus Christ to areas throughout the Midwest. Drawing his inspiration from the Gospel and life experience, iNTELLECT combines biblically sound doctrine with hip-hop beats.