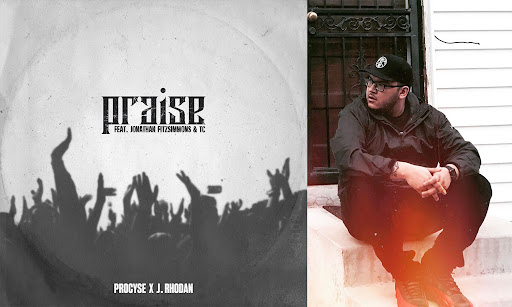 Colorado & Pennsylvania - "And it is my prayer that your love may abound more and more, with knowledge and all discernment, so that you may approve what is excellent, and so be pure and blameless for the day of Christ, filled with the fruit of righteousness that comes through Jesus Christ, to the glory and praise of God." [Philippians 1:9-11]
The Lord is our strength. He is a shield and ever-present help for those who trust in Him. What should our reaction be to His faithfulness? The song of our hearts in the midst of triumph is thanks and Praise.
Releasing March 17, 2023, Christian hip-hop artists Procyse (CO) and J. Rhodan (PA) deliver their newest collaboration, Praise. 
Praise is produced by J. Rhodan and features Jonathan Fitzsimmons & TC. The motivation behind the record is quite simple. Procyse explains, "We want to praise God in all we do. People fail to realize you can praise him in different ways, including hip-hop music. We want to show people that, with our song, we will thank Him."
Praise is a fusion of melody and boom-bap packed with vocal sampling. Anyone who loves golden-era hip-hop music and worship will love the record. It is a perfect example of what reverence looks like in today's culture.
Follow Procyse: Instagram | Twitter
Song Details
Title: Praise
Artists: Procyse, J.Rhodan
Release Date: March 17, 2023
Production: J. Rhodan
Engineering: iNTELLECT
Features: Jonathan Fitzsimmons, TC
###
About Procyse
Denver artist Procyse has always been inspired by the need to convey truth via music. Procyse boldly combines his heart for the Gospel with his music to spread hope among the hopeless through a gritty, boom-bap sound.