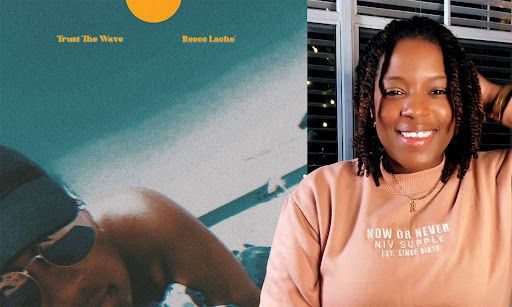 Louisiana - In the midst of the summer season, Christian artist Reece Laché provides a carefully curated soundtrack. While Laché is known for her elite penmanship and tackling difficulties that she has faced in her life through music, her approach on this latest EP displays yet another side to her creativity. Having already dropped one of Chrisitan Hip Hop's best projects of 2022, the album 'All Love', Laché is keeping her foot on the gas to show critics and fans alike that she deserves the attention that has found her. 
Trust The Wave is a six-song EP jampacked with vibes, bars, and Laché's trademark high energy. The EP hits digital music retailers on July 22, 2022. 
The project features production from Jay Boskie, Schmiddi, and Aidas Vaselka with engineering by AyeTev. An overarching theme is overcoming obstacles to find joy while giving God the glory for His provision. A highlight is the remix to Laché's acclaimed record "FGIL" (For God I Live). Maintaining the spirit of the original record, "FGIL (Remix)" stands firmly on its own. Trust The Wave also includes Mike Teezy featuring on two of the six tracks ("Friends", "Do It Big"). 
Laché and Teezy teamed up to film a visual for their collaboration on "Do It Big" which released on July 21, 2022 via Laché's YouTube channel. The visual also received featured placement by Christian culture media platform FiveTwenty Collective. 
"They don't see me when I fight, they think all I do is win/ They think all I catch is flights, I dun caught a couple licks" 
Support Reece Laché: Instagram | Facebook | Twitter | Tik Tok | YouTube 
EP Details 
Title: Trust The Wave 
Artist: Reece Laché 
Release Date: July 22, 2022 
Production: Jay Boskie, Schmiddi, Aida Vaselka 
Engineering: AyeTev 
Features: Mike Teezy 
Track Listing 
Friends 
Like 24k 
Do It Big 
Winning 
FGIL (Remix) 
Getting Hot 
### 
About Reece Laché 
Born and raised in Louisiana, Reece Lache' takes biblical principles of God and implements them into her music as they fit her life and journey. She started making Christian Hip Hop in 2013 after she gave her life to Christ and fought her way through total transformation.  
Her music is based on her journey and real-life experiences. A consistent blend of lyricism with a modern sound. Lache's music connects with a large variety of listeners. As she describes it, "My life is no fairytale. If it ever seems to be, it's because of God, not me."