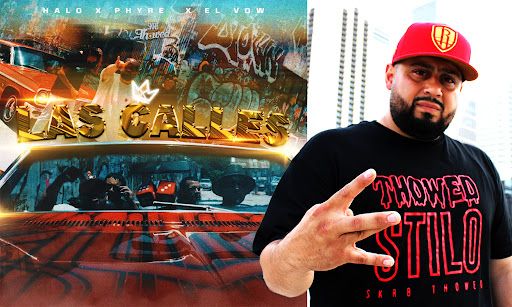 Houston, TX - For many, the streets stay calling. The question is, what is the message that they are trying to send? Phyre Garza has experienced nearly every possibility the streets have to offer coming up in Houston. In high school, he was a member of the crew "The Pure Playaz", a local gang affiliation. He quickly realized that the rules of the streets come with a high cost. During this journey, Phyre (pronounced "fire") began making hip-hop music. When he surrendered his life to Jesus Christ in 2009, he started writing lyrics with a new purpose and changed his lifestyle, but he never forgot about those still caught up in street traps. Instead, he now aims to offer an alternative through his music. 
On his newest record, Phyre shows that he wants to bring the Gospel to Las Calles. 
Las Calles is a hard-hitting track that seamlessly blends lyrics spit in both English and Spanish. The song features fellow Texas artists El Vow (Fort Worth) and Halo (Dallas) who compliment the Skr8thowed production and Phyre's message with their own unique and gifted voices. The trio also teamed up to film an official music video that can be viewed here. The overall theme is simple, no one forgets where they came from but it does not determine your purpose. What choices will you make? 
Las Calles was released across digital music platforms on July 29, 2022. 
Follow on Instagram: Phyre Garza | The World Rejects  YouTube: The World Rejects 
Spotify: Phyre Garza | El Vow | Halo 
Song Details 
Title: Las Calles 
Artist: Phyre Garza 
Release Date: July 29, 2022 
Production: Skr8thowed aka Beatkaso 
Features: El Vow, Halo 
### 
About Phyre Garza 
Hector Garza, a.k.a. Phyre, has always been a leader. He just wasn't always leading in the right direction. In high school he was a part of a crew that was labeled a gang due to their violent fights and wild parties. After high school he became the head of an underground rap group known as The Fam (Foreva Aggravated Mob). The street life quickly caught up to Phyre when his friend "Twank" was murdered and several members of The Fam were incarcerated. His life was on the fast lane to destruction. Phyre realized that if he wanted to see his son grow up, he had to make a change. In November of 2009 he surrendered his life to Christ. He left the street life behind for good. He now gives a different perspective through his music and leads a different crew, The World Rejects. He still talks about his past, but he doesn't glorify it. In an effort to reach young men who are consumed by the streets, Phyre offers an alternative through his music.