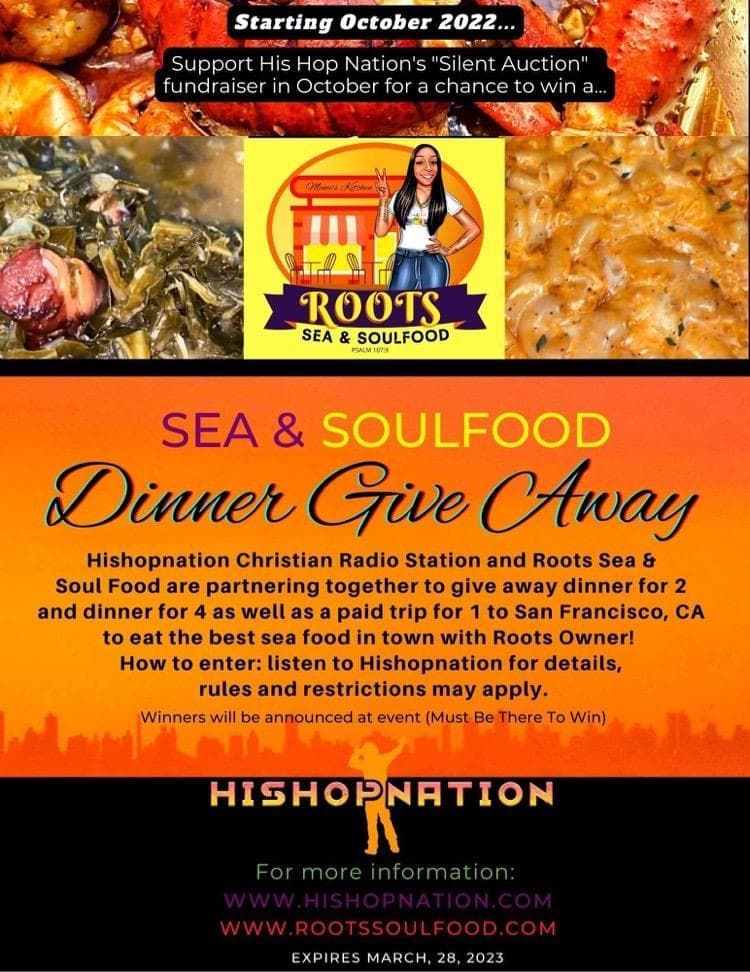 ATTENTION 
ALL BUSINESS OWNERS, Individuals who have a TEACHABLE TRADE, or Individuals who can give back in any way to support our youth: YES THAT MEANS YOU!! 
We are looking for in-kind donations/affiliate partnerships to support our "LET'S TALK TO THE YOUTH PROJECT"! 
By way of fundraising in October (Date and Location announced soon), we are holding a Silent Auction that will have many awesome items up for bid, and we need your items as well. 
For your support, we have partnered with Roots Seafood and Soulfood, to enter you into our raffle for a FREE 2-dinner meal, a FREE 4-dinner meal, and A FREE PAID TRIP TO SAN FRANCISCO to try other seafood from the Roots Headquarters itself!! 
So please search your inventory of gifts within you and sponsor our event!! 
To give you an idea of what you can sponsor here is a list of just a few items we have: 
-Free Haircuts 
-Free Skin Care products 
-Free Food 
-Gift Cards 
-Free Services like credit building, tutoring, radio time 
-Free Flyer creations 
-Free dessert 
-Free bundles of things 
-Free gift packages 
... 
And the list continues... 
Your Sponsored Donation will be bid on by adults and youth, so get creative! 
Please Text " I WANT TO SPONSOR" to 702-808-2067.. 
Thanks in advance!!!