T.Gambine 
known as T. to his family, friends, and fans – wasn't always the Christ-following person that he is now. Growing up, he ran with the wrong crowd and got caught up doing things he shouldn't be doing.
When T. was just 14-year-old, he passed out at school from being drunk and high. As he was unconscious, he became aware of being surrounded by a very white light…everything looked white and bright…and he saw a hand reaching down to him. After waking up, he sort of wondered about the experience, but kept on doing the same things he'd been doing.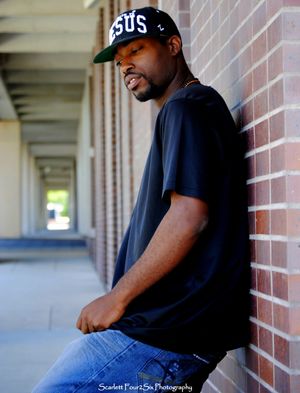 Years later, when he was saved and living a Christian life, he realized that God had been reaching out to him. While he was passed out, he had stopped breathing three times, but God saved him from all that he'd done, so he could go and spread the news about how Christ had changed him! T. has been rapping since he was a kid.
He rapped secularly for years, but heard the calling from the Lord T.'s music, and his life, was changed! He's now leader and visionary of Grind4God a ministry geered towards the homeless and prisoners and is very focused on helping others change their lives, too. Along with performing in concerts, for youth events, and at street outreaches, T. also visits juvenile detention centers, sharing the message of Christ's power to change lives. And the kids listen and believe him, because his life is a living testimony! When writing songs, T. usually listens to music and starts picking up a chorus from the beat.
He almost 'hears' the words inside the music. He humbly says, "It's just something God has blessed me with—I can just kinda hear it when it's playing." T.'s latest album, "T Christ'd Up," is his most personal one yet. It comes from an inspiration and idea he had years ago, but at that time he knew it wasn't supposed to happen yet.
As he started planning for this album, he knew it was time. And not only are the songs and the inspiration very personal, the release date of the album, February 15 of this year, was meaningful too. February 15 was the birthday of T.'s nephew, who was shot and killed in 1993. Listeners and audiences have been blessed by the personal nature of the album.
Copies of "T Christ'd Up" are available by purchase online, or at Hastings Bookstore in Bryan, Texas. As far as future goals or dreams for his ministry, T. just wants God to be glorified and is willing to do whatever God has for him. His main goal is to reach those that he'd earlier led astray with his worldly music. T. says, "I just want to do my part to build the kingdom and bring back some of the people I misled when I was out there doing the wrong things."
If God has more plans for him, that's fine, too, but he's very happy and fulfilled doing what he's doing. T.'s philosophy about his ministry is, "At the end of the day, God's gonna get the glory." Amen! T'S NEW ALBUM "RESTORED" DROPS MAY 2015