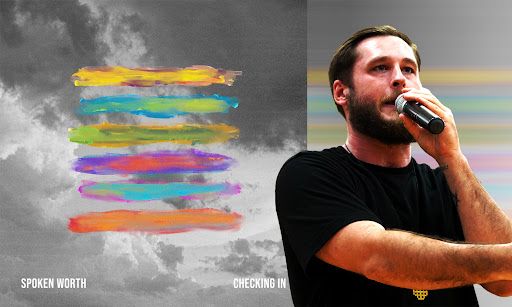 Miami, FL - In America, mental health has become a significant speaking point for society to rally around. We create hashtags and print t-shirts to bring awareness to the cause all while overlooking our neighbor who is struggling. We turn a phrase by "checking in on our strong friends" and conveniently bypass our own warning signs. Perhaps it is time for us to hit pause on our efforts to remain culturally relevant and truly begin Checking In with the God who completely understands the human condition. 
Checking In is the second release of 2022 by poet Spoken Worth.  
The single turn the camera inwards as Spoken Worth addresses the kaleidoscope of emotions within each of us. As Spoken Worth explains, "Checking In is about how all the different emotions we have as humans are God-given and should be welcomed by one another." He continues, "It is intended to raise awareness around mental health and how we all need to be seen, heard, and loved." 
Released on August 25, 2022, Checking In features production from Bway who also produced Spoken Worth's previous release "Just As We Are". 
The piano-driven calmness of the melody gives in to the weight of hip-hop drums and controlled transparency as Spoken Worth weaves a path from one feeling to the next that easily connects with listeners. It is a unique record that contains volumes in a running time of under three minutes. 
Follow Spoken Worth: Twitter | Instagram | YouTube | Spotify | Apple Music 
Release Details 
Title: Checking In 
Artist: Spoken Worth 
Release Date: August 25, 2022 
Production: Bway 
### 
About Spoken Worth 
Beginning his career in Terre Haute, IN Spoken Worth fell in love with sharing poetry in a passionate way that he found out was called "spoken word". Over 5 years Spoken Worth has released three full-length albums, a collaborative Christian hip-hop E.P. with OnBeatMusic, headlined his own tour, and performed for thousands of people. 
Ultimately, Spoken Worth has been blessed to share the gospel through poetry in over 20 states, and 50 different cities. Spoken Worth has performed and opened for award-winning comedians such as 'LaVell Crawford as well for the well-known spoken word poetry group 'Hotel Books. Spoken Worth has also performed at some of the largest Christian youth conferences in the country such as Winterfest in Gatlinburg, TN, and Arlington, TX. 
Spoken Worth believes in speaking life, love, and Jesus into the lives of others. He believes in creating connections, and relationships through spoken word and music. He believes that we as people are all human, flawed, broken, and wounded. His spoken word poetry aims to tell the story of his wounds to help others find healing in theirs.