It is nice to see IEHKO & TIAHNY back on the front line.
This touches my heart because I remember when they first popped on the scene. 
They can be youthful & playful but when it's time to put in work for Jesus watch out.
They are going to hit you with the one-two punch.  I knew something was going on when things got quiet. 
During our interview on His Hop TV, I asked them what was going on in the past few years. 
IEHKO 
"I can tell you this much.
God was definitely cultivating us we were definitely being refined definitely being put under pressure.
Yeah, you have a testimony before you come to the Lord There are still things to work on when you are in the Lord.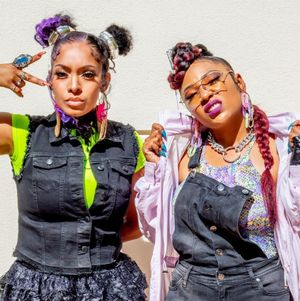 There are still some things you have to get free from. There still things you have to get delivered from. 
God allowed us to go through the fire but we did not smell like smoke. 
We had to be humble and learn and relearn God was doing a work inside of us. 
God has been telling us that He is going to put us in the Forefront. 
He is going to give us a platform but the platform Is only for lifting up His name. 
I believe God wanted to deal with some heart issues within us.
The moment we got back into it everything has been a fast acceleration. 
Sometimes as artists we forget that we have a powerful influence over people especially the younger generation.
It's almost like the song 7 did when he was out of the scene for two years and I'm like LORD are you doing that to us too"? 

*Awards  
•2015 The Prestige Awards SD - Gospel Rap Artist of the Year  
•2016 Invasion Music Awards - Best Group  
•2017 Inland Empire People's Choice Awards - Best Gospel HipHop Artist  
•2018 SC Gospel Music Awards - Best Rap Artist Group
Post in the comments some of the ways artists have a powerful influence in today's culture. 
Post in the comments some of the things we need to be freed from after we are in the Lord.