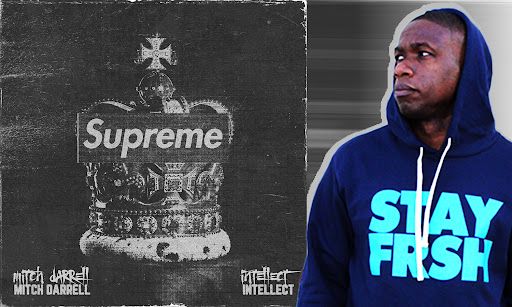 Toledo, OH - Scripture provides a warning that there will come individuals who will make themselves like the Most High (see Isaiah 14). They will foolishly attempt to establish themselves above the true and living God.
While they may be able to fool some, the reality is that their perceived power is nothing more than a fallacy. All of them will have to bow before the Supreme Lord of Lords. 
With his newest single, iNTELLECT drops a clear reminder of God's place in this world and where man ranks: 
"False prophets, they make a profit, while people pray to the universe as if it has the power to reverse the curse/ It's the power within, they say, with their hearts full of pride cause judgment has been delayed" 
iNTELLECT once again partners with fellow Christian hip hop artist Mitch Darrell (North Carolina) on the perfectly executed Supreme. The duo float effortlessly on top of production by Quincytones as traditional boom bap sampling captures the ear of the listener. 
Supreme was released to digital music retailers on September 16, 2022. 
Support iNTELLECT: Instagram | Facebook | Linktree 
Song Details 
Title: Supreme 
Artist: iNTELLECT 
Release Date: September 16, 2022 
Production: Quincytones 
Engineering: iNTELLECT 
Features: Mitch Darrell 
### 
About iNTELLECT 
With a distinct flow, iNTELLECT has used his gift to spread the message of salvation through faith in Jesus Christ to areas throughout the Midwest. Drawing his inspiration from the Gospel and life experience, iNTELLECT combines biblically sound doctrine with hip-hop beats.
"Being that I grew up in a home with a Christian mother and an alcoholic father, my mother has been one of the most influential persons in my life. I watched how she constantly prayed for my father (who eventually came to salvation before his death) and I witnessed how faith and prayer can change the direst of situations.
I watched how she studied the Word of God and passionately lived a Christian life while I was growing up. Even though at times I had strayed away from the path, she always told me that God had a plan for my life.
Her influence has helped me see the importance of not only living a life of integrity but also presenting myself to God as one approved, a worker who does not need to be ashamed and who correctly handles the word of truth (2 Tim. 2:15)." Music and the Message have always been a passion for iNTELLECT.
"I've always loved hip hop music; the beats, the lyrics, the whole nine. But at the end of the day, if it's not God-inspired, it's powerless." And recognizing the call to share his faith, iNTELLECT continues to use his talents and gifts to reach a lost generation.