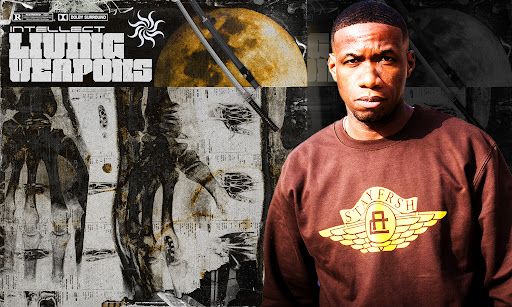 Toledo, OH - 2022 has been building up to this exact moment for Ohio emcee iNTELLECT. Last year the Christian rap artist released his concept album 'Ephesians' that was created to support a sermon series at his local church. While it was well received in the broader hip hop space, the project was still created with others in mind. Since the beginning of this calendar year, iNTELLECT has traveled a more personal road. 
With his new album Living Weapons, June 17th, he realizes something that he has thought about for a long time: 
"Living Weapons is a project, as an artist, that I've always wanted to do," explained iNTELLECT. "It's a boom bap experience that invokes nostalgia, but also comes with a sound and message that are relevant to this generation." 
The album takes traditional boom bap and blends it seamlessly into today's sound thanks to production by Newselph ("New Kung Fu"), F-Plus ("Honor the Teacher", "Prison Break", "Manifest Remix"), and Brokenfinga ("I Got Somethin'", "The Intersection Remix", "It Ain't Over Remix"). iNTELLECT continues to show why he is seen as one of Christian Rap's most consitent lyricists today. Not only does he spit hard hitting bars, but he features an amazing lineup of independent faith-based artists as well. Features include: Mitch Darrell, TC, Procyse, coreywordsmith, Minister Squad, D. R33D, DJ Navin Johnson. 
Living Weapons releases across digital music platforms on June 17, 2022. It includes the acclaimed singles "I Got Somethin'" and "Manifest (Remix)". 
Support iNTELLECT: Linktree | Instagram | Facebook 
Album Details 
Title: Living Weapons 
Artist: iNTELLECT 
Release Date: June 17, 2022 
Production: Newselph, F-Plus, Brokenfinga 
Engineering: iNTELLECT 
Features: Mitch Darrell, TC, Procyse, coreywordsmith, Minister Squad, D. R33D, DJ Navin Johnson 
### 
About iNTELLECT 
With a distinct flow, iNTELLECT has used his gift to spread the message of salvation through faith in Jesus Christ to areas throughout the Midwest. Drawing his inspiration from the Gospel and life experience, iNTELLECT combines biblically sound doctrine with hip hop beats.  
Music and the Message have always been a passion for iNTELLECT. "I've always loved hip hop music; the beats, the lyrics, the whole nine. But at the end of the day, if it's not God-inspired, it's powerless." Recognizing the call to share his faith, iNTELLECT continues to use his talents and gifts to reach a lost generation.