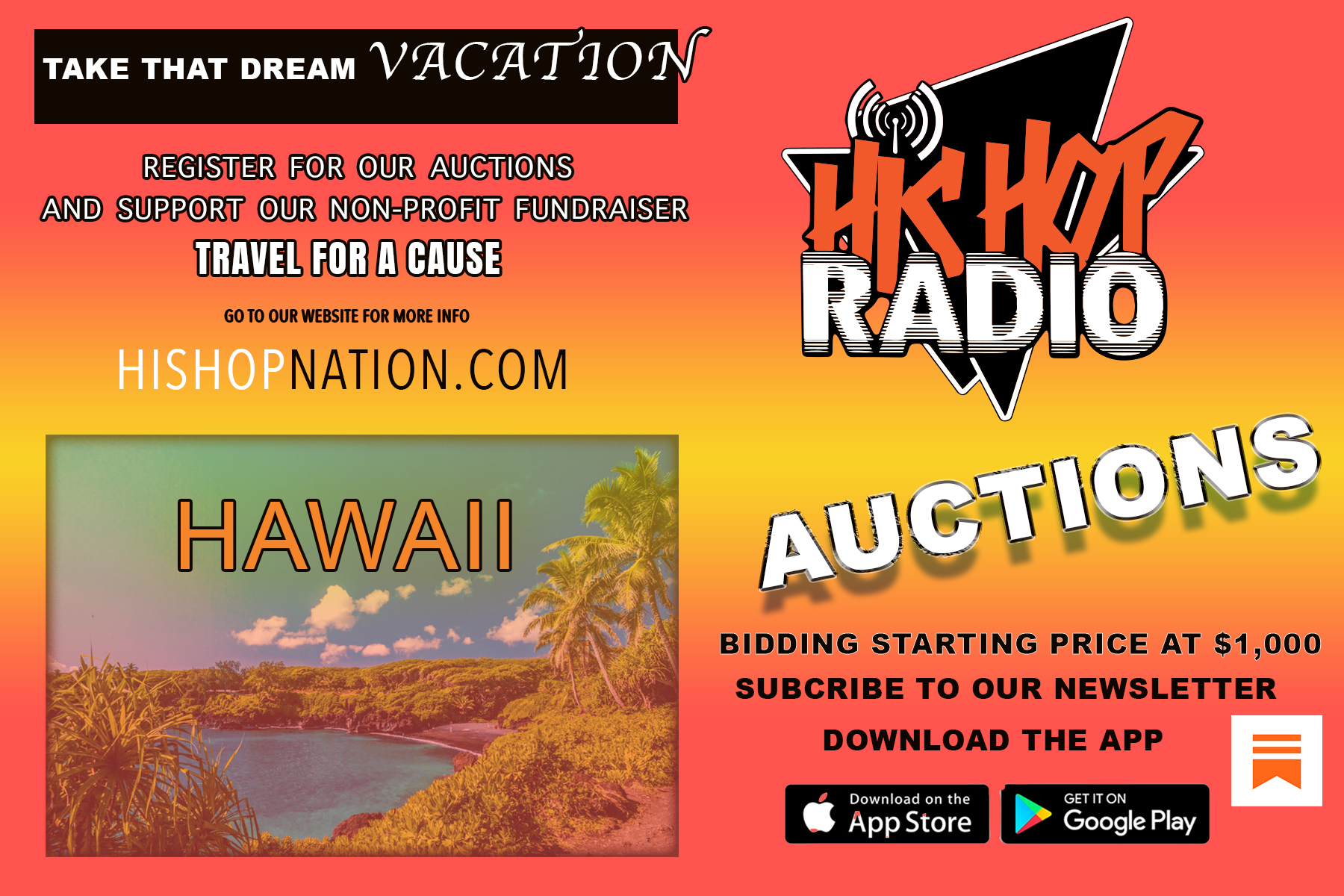 WELCOME TO THE HIS HOP NATION AUCTION, AN ELECTRIFYING EVENT THAT HARNESSES THE POWER OF HIP-HOP TO MAKE A POSITIVE IMPACT ON COMMUNITIES IN NEED. 
HIS HOP NATION IS A NON-PROFIT ORGANIZATION DEDICATED TO EMPOWERING YOUTH AND MARGINALIZED INDIVIDUALS THROUGH MUSIC, ARTS, AND EDUCATION. OUR MISSION IS TO FOSTER CREATIVITY, SELF-EXPRESSION, AND SOCIAL CHANGE BY LEVERAGING THE IMMENSE INFLUENCE OF HIP-HOP CULTURE.
HOW THE AUCTION WORKS:
THE HIS HOP NATION AUCTION IS AN ONLINE PLATFORM THAT BRINGS TOGETHER A VAST ARRAY OF UNIQUE AND EXCLUSIVE ITEMS RELATED TO THE WORLD OF HIP-HOP. FROM SIGNED MEMORABILIA TO RARE VINYL RECORDS, CONCERT TICKETS, EXCLUSIVE MERCHANDISE, AND EVEN OPPORTUNITIES TO MEET YOUR FAVORITE ARTISTS, THERE'S SOMETHING FOR EVERY HIP-HOP ENTHUSIAST TO BID ON.
PARTICIPANTS CAN REGISTER AND PLACE BIDS ON THEIR DESIRED ITEMS THROUGHOUT THE DURATION OF THE AUCTION. THE AUCTION USUALLY SPANS A FEW DAYS, PROVIDING AMPLE TIME FOR MUSIC LOVERS WORLDWIDE TO GET INVOLVED AND SHOW THEIR SUPPORT FOR THE CAUSE.
BUYING ITEMS FOR A GOOD CAUSE:
EVERY BID AND PURCHASE MADE DURING THE HIS HOP NATION AUCTION DIRECTLY SUPPORTS OUR VARIOUS COMMUNITY PROGRAMS. 
THE FUNDS RAISED GO TOWARDS:
YOUTH EMPOWERMENT PROGRAMS: PROVIDING UNDERPRIVILEGED YOUTH WITH ACCESS TO MUSIC EDUCATION, WORKSHOPS, MENTORSHIP, AND SKILL-BUILDING OPPORTUNITIES TO NURTURE THEIR CREATIVITY AND POTENTIAL.
COMMUNITY OUTREACH:
INITIATING PROJECTS THAT USE HIP-HOP AS A TOOL FOR SOCIAL CHANGE, ADDRESSING ISSUES LIKE VIOLENCE PREVENTION, MENTAL HEALTH AWARENESS, AND PROMOTING UNITY AND UNDERSTANDING AMONG DIVERSE COMMUNITIES.
SCHOLARSHIPS:
OFFERING SCHOLARSHIPS FOR ASPIRING YOUNG ARTISTS AND MUSICIANS, ENABLING THEM TO PURSUE THEIR DREAMS IN THE CREATIVE INDUSTRY AND HAVE A POSITIVE IMPACT ON THE WORLD.
CRISIS SUPPORT: PROVIDING AID AND RESOURCES DURING EMERGENCIES OR TIMES OF CRISIS, ENSURING THAT AFFECTED COMMUNITIES RECEIVE ESSENTIAL SUPPORT.
BY PARTICIPATING IN THE HIS HOP NATION AUCTION, YOU NOT ONLY ACQUIRE UNIQUE MEMORABILIA AND EXPERIENCES BUT ALSO BECOME A CATALYST FOR CHANGE IN THE LIVES OF COUNTLESS INDIVIDUALS WHO BENEFIT FROM OUR INITIATIVES.
OUR COMMITMENT:
AT HIS HOP NATION, WE BELIEVE IN COMPLETE TRANSPARENCY AND ACCOUNTABILITY. WE ENSURE THAT EVERY DOLLAR RAISED THROUGH THE AUCTION IS EFFICIENTLY USED TO BRING ABOUT REAL CHANGE IN THE LIVES OF THOSE WE SERVE. OUR PROGRAMS ARE CAREFULLY DESIGNED TO HAVE A LASTING IMPACT, PROMOTING A MORE EQUITABLE, INCLUSIVE, AND VIBRANT SOCIETY.
JOIN US FOR THE HIS HOP NATION AUCTION, WHERE YOUR PASSION FOR HIP-HOP MEETS THE POWER OF COMPASSION, AND TOGETHER, WE CAN CREATE A HARMONIOUS FUTURE FOR ALL. LET'S ELEVATE THE CULTURE WE LOVE AND USE IT AS A FORCE FOR GOOD!